Things To Do
Fishing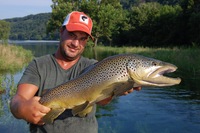 When visiting Cotter, Gassville and the Twin Lakes Region, one won't be disappointed in the water options available to catch so many different kinds of species of fish all in one geographic area. If walleye, large mouth bass, crappie, catfish and gigantic stripers excite you, then explore either Norfork Lake or Bull Shoals Lake, both only 20 minutes away. If you seek some of the country's most fantastic and off the beaten path small mouth fishing destinations, two great rivers/creeks await you in Crooked Creek and the Buffalo River...
---
Lakes and Rivers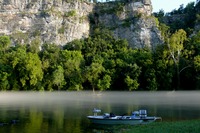 The Twin Lakes Region in North Central Arkansas is filled with majestic rivers, lakes and springs; some of which are very well known among fisherman from across the globe. Cotter and Gassville puts you and your party right in the thick of all of it when you visit. With boat ramp access and boat rental facilities near by, you are sure to fill your on the water dreams and objectives on your visit or permanent stay whether you like to water ski, tube, sun bath, explore or just plain relax. The White River has an incredi...
---
Lodging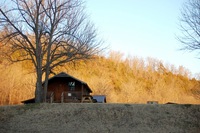 Now that you have found the perfect place you want to relocate with family or vacation with friends, we need to find you a place to stay while you explore the area and all the fine things our area offers. Cotter and Gassville Arkansas are filled with little getaways, campgrounds, motels, bed and breakfasts and resorts, some along the banks of the river, some in town and some set off into the rolling hills of the Ozarks. See Local Cotter and Gassville Area Lodging Directory See Local Cotter and Gassville Area Campground Di...
---
Parks and Relaxation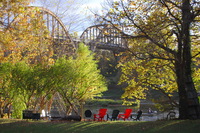 Maybe your preference is to sight see, bird watch, layout or just plain relax in the park near or in the rivers and springs. If so, Cotter and Gassville will not disappoint and you won't need to travel far once you reach one of these two base camps. Big Spring Park Big Spring Park in Cotter AR is just the place to take it all in. Enjoy the Anglin-Tinnon Railway Workers outdoor memorial in the park as you learn more about the historic role the railway played in Cotters existence. Enjoy a walk on the 2.2 mile trail along th...
---
Hiking and Biking Trails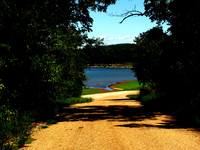 Getting out and into the thick of it is what its all about for some and often the fun of whats out there can be found by walking or riding a bike vs driving or by boat although all modes of transportation work around our parts. Just inside the City of Cotter at Big spring park is one of the first places to stop for a casual and leisurely stroll along the river banks with a 2.2 mile trail that can get you away from it all. Enjoy a bike ride along the flat route or take a stroll with the kiddos and see the historic Rainbow Arch Bridge and t...
---
Motorcycle Riding near Cotter and Gassville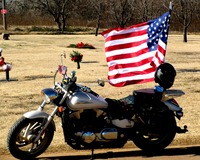 It's hard to beat a better place to ride a motorcycle than in the Ozarks. With the streams, rivers, lakes, hills and numerous turns that Arkansas has to offer, it really can't get better for a rider to explore the area on the back of one of America's greatest pastimes. Here are some links to just a few of the scenic routes available in the area but you can pretty much take any road off of the highway and be in prime riding grounds FYI. The Cotter Gassville Chamber of Commerce welcomes all riders and we look forward to seeing y...
---
Events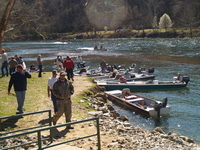 What's a vacation without taking in some of the local settings and area events. Throughout the year there are various events throughout the Gassville and Cotter area that are open to the public. Bring the kids, family and friends to events like; Gassville in the Park, The Supreme Boat Trout Tournament, Cotter Trout Festival, Cotter BBQ Contest & Car Show, and Christmas in Cotter at Big Spring Park. All events cater to the lifestyle of living in the Ozarks filled with area artists, vendor booths, music and great home cooked food! &nbsp...
---
Dining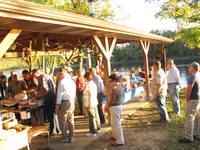 Now that you have found the perfect place to visit and we have you dialed in on where to stay and what you can do to pass time, we now need to take care of your hunger. Cotter, Gassville and the surrounding Twin Lakes Region is filled with great places to eat that are sure to curb your appetite. Nima's Pizza, Gassville's own, has won countless 1st place and runner up finishes in the International Pizza Challenge as the World's Best Pizza. Click here to see the Cotter Gassville Chamber of Commerce Dining Directory. ...
---
Shopping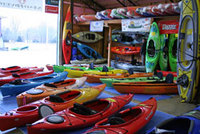 Now if you want to break away from the abundance of cold water trout out our backdoor or the lakes and rivers that lie within a short drive from Cotter and Gassville, and we understand how difficult that can be, then head out and explore some of our county's top tourist attractions like the caves, scenic drives, Norfork National Fish Hatchery, Scenic Rivers, Cotter's own Railroad Memorial, art and photo galleries, shopping and some great local food available close by. When it comes to shopping, your choices can cater to a wide variety of taste...
---
Golf Courses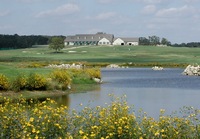 If you like to hit the links, there are three different golf courses within a short drive from Cotter and Gassville and plenty more if you are willing to drive a little further. Each of the three 18 hole golf courses around our area are unique within its varied setting and all are fun to play. Area Golf Courses Big Creek Golf & Country Club ~ Winner of Golf Digest's has giving this 7300 yard course the distinguished 5 star award as the best place to play for nine years in a row. The golf course covers over 200 ...
---
Real Estate Companies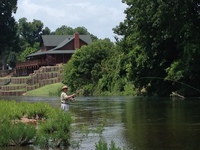 When it comes to retiring or finding that perfect 2nd home to have in the Ozarks, there is not a better place to start your search than in the Ozarks. Land is very fairly priced in the area and the choices between river, lake, hilltop or community options are all around us in any direction. Take a look at some of Cotter Gassville Chamber of Commerce members involved in Real Estate here. To start your own property search, take a look at this great MLS Search Tool provided by Century 21 LeMac Realty that we have found ...
---